Royal Dutch Gazelle has been making quality bikes for more than 130 years, with a focus on innovation. Their bikes are light, high quality and comfortable. Gazelle makes about 300,000 bikes a year and are always thinking about how bike design can be smarter and the technology of their e-bikes even more innovative.
Test ride Gazelle eBikes at our Brighton Store
Gazelle - The Original Dutch Bikes
When you think about the Netherlands, you may wonder why almost half the bikes sold are eBikes in a country that has very few hills. There are a number of factors that make the country one of the highest users of eBikes per person in the world. Firstly wind, much like Brighton, you are either with it or against it on your daily commute and an eBike helps you fly along when the going is tough, arriving at work or getting home without being drenched in sweat. Secondly the Dutch people love cycling and probably learn to cycle before they can walk, much like Brighton many peoples only form of transport on a day to day basis is a bike.
We are proud to be a Gazelle Stockist and look forward to you test riding our wide range of eBikes around our test track a short ride from the shop.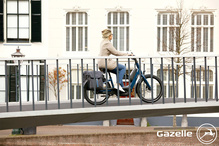 The Gazelle Ultimate is a high spec luxury eBike with 3 versions all with the latest Bosch Performance Line Smart system delivering 75Nm of Torque. There is the T10 with 10 speed derailleur gears or the C5 with a Nexus 5 speed Hub Gearing  and
Gates Carbon Belt Drive or the C380 with Enviolo Hub Gears with a Gates Belt Drive for maintenance free cycling. You can tackle any hill with ease with the Ultimate in luxury eBike
Price: £3,329.00 to £3,999.00
Touring is a pleasure with the Grenoble C5 HMB. You can get on and off easily, sit upright comfortably and have a good view of your surroundings. Thanks to the powerful Bosch Performance Line Smart System with 75Nm of Torque motor you can stop and go wherever you want.With its Gates Carbon Belt drive you can enjoy Maintenance Free cycling
Price: £3,279.00
Gazelle Paris C7+ HMB and C7 HMB
The stable frame, smooth-running, mid-drive motor and suspension components provide a sense of safety and freedom. The Paris C7+ HMB and C7 HMB offer outstanding quality at a great price with 7 Hub Gears, 2 frame options, 400Wh or 500Wh Batteries and two different Bosch motor options – Active Line Plus and Active Line. You just have to choose which one you want!
Price: £2,099.00 to £2,499.00
Are you are sporty, versatile and stylish, then you are just like the Medeo T10 HMB. With its derailleur system, beautiful styling and powerful Bosch Performance Line Motor motor, and 500Wh Battery it's as versatile as you are
Price: £2,799.00
Are you looking for an elegant e-bike with sporty DNA that's also good value for money? Then take a look at the Medeo T9 HMB: powerful motor, 9-speed derailleur and plenty of riding comfort. It has a powerful Bosch Performance Line Motor motor, and you can choose a 400Wh or 500Wh Battery depending on the distance you want to ride.
Price: £2,399.00 to £2,569.00